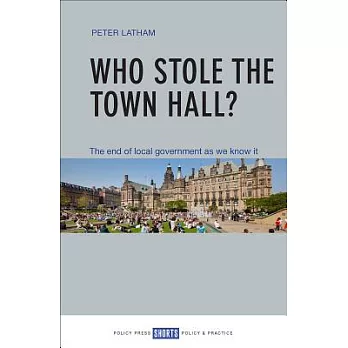 書名:Who Stole the Town Hall?: The End of Local Government As We Know It,語言:英文,ISBN:9781447337270,作者:Latham, Peter,出版日期:2017/05/15,類別:人文社科
---
In this provocative book, Peter Latham argues that the UK Conservative Government's devolution agenda conceals their real intention: to complete the privatization of local government and other public services. Using illustrative examples from across the United Kingdom, including the so-called "Northern Powerhouses" and the Midlands,
Who Stole the Town Hall?
explains the far-reaching implications of this reorganization of local government—a reorganization already affecting vital public services, including education, health, housing, and policing. Proposing an overhaul of the UK taxation system—including land value taxation, a wealth tax, and a more progressive income tax—to fund an increase in state-provided services, Latham argues for an alternative economic and political strategy, a vital new basis for federal, regional, and local democracy.
---
【資料來源 / 版權 與 商品購買網址】
商品來源:博客來, 分類:博客來, 外文書, 人文社科, 政治, 公共政策
Who Stole the Town Hall?: The End of Local Government As We Know It