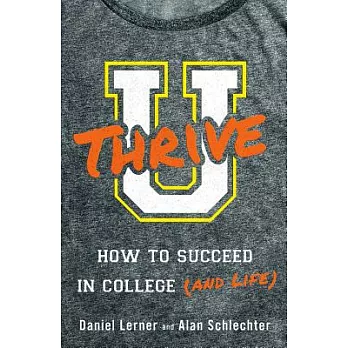 書名:U Thrive: How to Succeed in College (and Life),語言:英文,ISBN:9780316311618,作者:Lerner, Daniel/ Schlechter, Alan, M.D.,出版日期:2017/04/18,類別:心靈養生
---
From the professors who teach NYU's most popular non-required class, "Science of Happiness," a fun, comprehensive guide to surviving and thriving in college and beyond.
Every year, more than 5,000,000 students begin their freshman year at colleges and universities nationwide. Most of them will sleep less, eat poorly, and stress out a whole lot more. By the end of the year, 30% of those freshmen will have dropped out. Unsurprisingly, for many, "the best four years of your life" can feel like the worst.
Enter Dan Lerner and Dr. Alan Schlechter to address these problems head on and teach students how to not only survive college but enjoy it. Filled with fascinating science, real-life stories, and tips for building lifelong habits, 101 addresses every possible problem a freshman could face, from nightmarish roommates to failing a class. Engaging and often hilarious, 101will help students grow into the successful, happy, proud alums they hope to be.
---
【資料來源 / 版權 與 商品購買網址】
商品來源:博客來, 分類:博客來, 外文書, 心靈養生, 個人成長心理, 成功
U Thrive: How to Succeed in College (and Life)