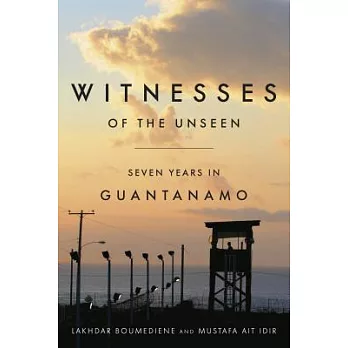 書名:Witnesses of the Unseen: Seven Years in Guantanamo,語言:英文,ISBN:9781503601154,作者:Boumediene, Lakhdar/ Idir, Mustafa Ait/ Norland, Daniel Hartnett (CON)/ Rose, Jeffrey (CON)/ List, Kathleen (CON),出版日期:2017/04/25,類別:人文社科
---
This searing memoir describes the harrowing ordeal of two men and their seven-year imprisonment in Guantanamo.
Before, they lived quiet, peaceful lives?working for humanitarian organizations, raising young children, filling weekend afternoons with pick-up soccer games and coffee with friends.
But in October 2001, Lakhdar Boumediene and Mustafa Ait Idir, along with four other Algerian nationals, were arrested and accused of plotting to attack the American Embassy in Sarajevo: they came to be known as the "Algerian Six." Lakhdar and Mustafa were detained by the Bosnian police and then, after a Bosnian court ordered that they be set free, were "released" into the waiting arms of American special forces. They were then beaten, blindfolded, strip-searched, shackled, and flown to Guantanamo Bay, Cuba. They were housed outdoors in steel mesh cages while the now-infamous military prison was built around them. For seven years, they each languished in captivity in subhuman conditions, enduring torture and harassment, force-feedings and beatings, cut off from communication with their families. Neither was accused of a crime nor allowed to argue his innocence. Their accounts testify to the horrors wrought in Guantanamo in the name of the American people.
Witnesses of the Unseen shares the story of their lives, giving an insider's look at the plaintiffs behind the landmark U.S. Supreme Court ruling, Boumediene v. Bush, which allowed Guantanamo detainees the constitutional right to challenge their detention in federal court. After years of brutal mistreatment, casual violence, and finally the pro bono assistance of an American law firm, Lakhdar and Mustafa were able to secure their release. Their stories reveal the integrity and resilience of spirit that sustained these two men in the face of unrelenting hardship. In these pages, Lakhdar and Mustafa share their trauma in the hope that what happened to them does not happen to innocent people in the future, especially under a flag that stands for liberty and justice.
---
【資料來源 / 版權 與 商品購買網址】
商品來源:博客來, 分類:博客來, 外文書, 人文社科, 傳記, 傳記總論
Witnesses of the Unseen: Seven Years in Guantanamo