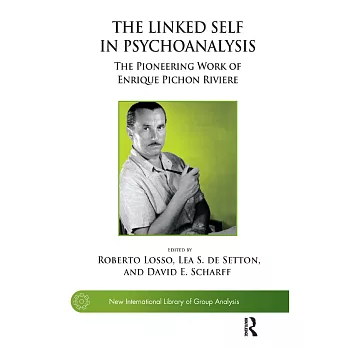 書名:The Linked Self in Psychoanalysis: The Pioneering Work of Enrique Pichon Riviere,語言:英文,ISBN:9781782204763,作者:Losso, Roberto (EDT)/ De Setton, Lea S. (EDT)/ Scharff, David E. (EDT),出版日期:2017/05/10,類別:心靈養生
---
Enrique Pichon Rivière was a pioneering psychoanalyst, writing in Spanish in Argentina in the middle of the 20th century. He has never been translated into English, so his ideas are only known indirectly through the work of students and colleagues. His work has inspired not only the succeeding generations of Latin American analysts, but also spawned the fields of analytic family therapy and dynamic group work and organizational consultation. This book presents Pichon-Rivière's groundbreaking work in English for the first time. The main papers represent his theory of psychoanalysis including the link (el vinculo), spiral process, the theory of unifying illness, the action of interpretation, and the role and capacity of working in groups and in the family group.
The book has three sections. In the first, Roberto Losso and Lea S. de Setton narrate Pichon Rivière's biography relating elements of his life to his subsequent work. In the second part, the editors present several original texts of Pichon Rivière that demonstrate his multiplicity of interests, covering classic psychiatry, dynamic psychiatry, psychoanalysis, as well as group psychotherapy, family and couple psychotherapy, social psychology, and applied psychoanalysis. These writings testify to Pichon Rivière as an original thinker, years ahead of his time.
In the third part, several commentators discuss Pichon Rivière's and clinical practice. These include Roberto Losso's contribution, a panorama of Pichon's ideas alongside his personal experience as Pichon's student. Rosa Jaitin describes the experience of teaching Pichon's ideas in Lyon, and in other French cities; René Kaës discusses meeting Pichon, and offers his translated introduction to the French version of the complete work of Pichon; Rosa Marcone interviews Ana P. de Quiroga, Pichon's life partner for many years and subsequently the director of the School of Social Psychology that Pichon founded; Alberto Eiguer narrates an experience with Pichon and his influence on Eiguer's ideas and writing; and Vicente Zito Lema gives his vision of Pichon's work from sociological and philosophical perspectives. Finally, David Scharff summarizes Pichon's major ideas and offers a comparison between these concepts and object relations theory. The book also includes a glossary by the editors of Pichon-Rivière's major concepts and terms.
---
【資料來源 / 版權 與 商品購買網址】
商品來源:博客來, 分類:博客來, 外文書, 心靈養生, 心理分析, 心理分析總論
The Linked Self in Psychoanalysis: The Pioneering Work of Enrique Pichon Riviere