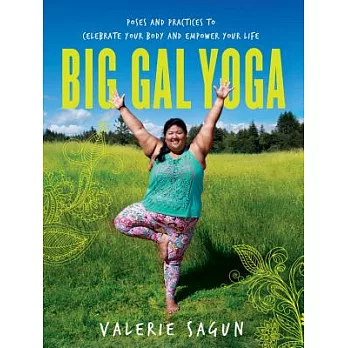 書名:Big Gal Yoga: Poses and Practices to Celebrate Your Body and Empower Your Life,語言:英文,ISBN:9781580056595,作者:Sagun, Valerie,出版日期:2017/07/25,類別:心靈養生
---
Instagram star Valerie Sagun is a powerful voice in the body-positive movement: With 120,000 followers on Instagram and constant traffic on her Tumblr site, readers love her for her fearless message and insights on the benefits of yoga for all bodies.
Rejecting the idea that all yogis have to be skinny white women in fancy Lululemon gear, Valerie?size 22, mixed race, and tattooed?offers readers all of the inspiration and guidance they need to become yogis at any size.
Yoga has long been one of the most popular fitness trends in the U.S., and the body positivity community is now bigger than ever. The success of TLC's My Big Fat Fabulous Life and model Tess Holliday prove that there's a growing audience of women longing to see themselves represented on the screen and in the pages of books.
Big Gal Yoga is perfect for everyone, from yoga novices to more experienced yogis. And while Valerie provides plenty of tips for plus-size yogis, anyone can follow her yoga instruction. Her message of body positivity is also a universal one-no matter the insecurity, Valerie's honest advice and encouragement can help anyone find self-love through yoga.
---
【資料來源 / 版權 與 商品購買網址】
商品來源:博客來, 分類:博客來, 外文書, 心靈養生, 健康與醫療, 瑜珈
Big Gal Yoga: Poses and Practices to Celebrate Your Body and Empower Your Life