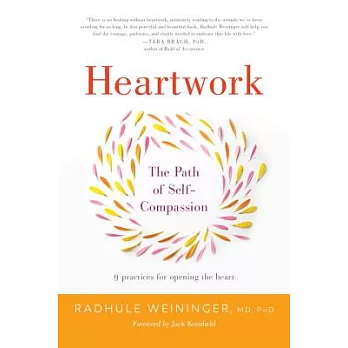 書名:Heartwork: The Path of Self-Compassion,語言:英文,ISBN:9781611804812,作者:Weininger, Radhule, M.D., Ph.D./ Kornfield, Jack (FRW),出版日期:2017/07/04,類別:心靈養生
---
Nine simple mindfulness practices anyone can use to generate compassion–toward oneself, others, and the world–and to live from that place of intelligent kindness in the face of life's difficulties.
This is the best kind of popular psychology–accessible, practical, useful–with the depth of the author's practice as a clinical psychologist and meditation instructor coming through at all times. The author interweaves her own as well as psychotherapy clients' stories together as a means for the reader to engage their own life in relation to the "9 Practices of Compassion," which is the cornerstone of the book.
The 9 Practices uniquely integrate mindfulness, intention, self-compassion, compassion for others, and compassion for all beings as "natural" stages of development. The presentation of clinical stories, from a mother struggling with a drug-addicted daughter to a man dealing with an angry temper, are relatable and not only demonstrate the application of the principles but also speak to the human struggle to be compassionate.
---
【資料來源 / 版權 與 商品購買網址】
商品來源:博客來, 分類:博客來, 外文書, 心靈養生, 個人成長心理, 幸福
Heartwork: The Path of Self-Compassion