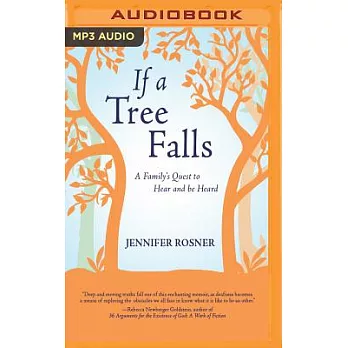 書名:If a Tree Falls: A Family's Quest to Hear and Be Heard,語言:英文,ISBN:9781511384261,作者:Rosner, Jennifer/ Lee, Ann Marie (NRT),出版日期:2016/10/25,類別:心靈養生
---
Jennifer Rosner's revelatory memoir explores family, silence, and what it means to be heard.
When her daughters are born deaf, Rosner is stunned. Then she discovers a hidden history of deafness in her family, going back generations to the Jewish enclaves of Eastern Europe. Traveling back in time, she imagines her silent relatives, who showed surprising creativity in dealing with a world that preferred to ignore them.
Rosner shares her journey into the modern world of deafness, and the controversial decisions she and her husband have made about hearing aids, cochlear implants, and sign language. An imaginative odyssey, punctuated by memories of being unheard, Rosner's story of her daughters' deafness is at heart a story of whether shea mother with perfect hearing will hear her children.
---
【資料來源 / 版權 與 商品購買網址】
商品來源:博客來, 分類:博客來, 外文書, 人文社科, 社會學, 社會階層
If a Tree Falls: A Family's Quest to Hear and Be Heard